Robert Lee Putnam JR
President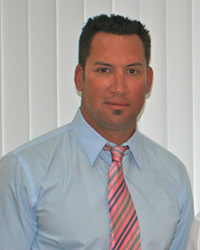 Robert L Putnam, Jr., is President of For The Future Housing Inc. (FTF Inc.) He is responsible for overseeing day-to-day operations in support of FTF Inc.'s mission and vision, and enhancing internal organization processes and infrastructure in the office to ensure continuous growth. He is also responsible for managing acquisitions, client relationships and projects for FTF Inc. and its affiliated company Michael Roberts Construction Inc., a General Engineering and Building Contractor based in Silicon Valley.
Mr. Putnam started his career at Jonce Thomas Construction Inc. as an apprentice Carpenter and has been constructing affordable housing projects since he was 17 years old. Mr. Putnam worked his way through the ranks to become a Journeyman carpenter at the age of 21 years old. Working on projects throughout the greater San Francisco Bay Area, Mr. Putnam quickly learned how to develop and construct a large variety of projects including apartments, schools, religious buildings, hospitality structures and more. Mr. Putnam made his first real-estate deal at the age of 19 and purchased his first affordable housing project at the age of 27.
A loyal and dedicated employee, Mr. Putnam worked for Jonce Thomas Construction Inc. for 14 years before deciding to branch out and co-found For the Future Housing Inc.'s affiliated company, Michael Roberts Construction Inc. Always looking to be the most knowledgeable in his field, Mr. Putnam attended National University and obtained a Certificate in Construction Management. Mr. Putnam is also a LEED Green Associate and a member of the (USGBC) United Sates Green Building Council and the (ULI) Urban Land Institute.
In addition to his leadership role in For the Future Housing, Mr. Putnam is the Co-Founder and CFO of Michael Roberts Construction Inc. and holds the following contractors' licenses and professional designations:
LEED Green Associate
Certificate in Construction Management